Thoughts In Vision eBook!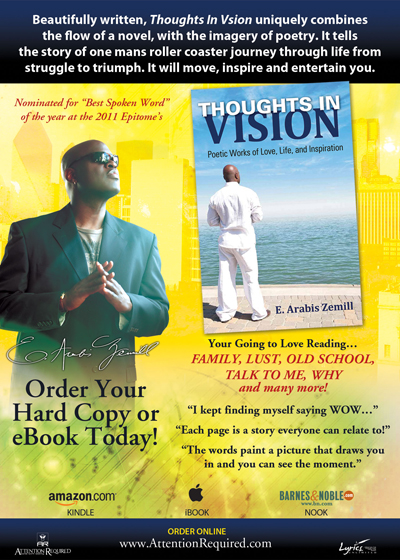 Now Available in Your Favorite eBook!
Beautifully written, Thoughts In Vsion uniquely combines the flow of a novel, with the the imagery of poetry. It tells the story one mans journey through life from struggle to triumph. It will move, inspire and entertain you.
"Your wisdom for love and inspiration is like sitting on the beach watching the sun rise. Now you are the one to rise."
—Monica Johnson, VP, Epitome Magazine
"E. A. Zemill writes with phenomenal depth and imagery. He's a bad man."
—Eric Dickerson, NFL Hall of Famer

Lust

Relevance

Do You Have To Ask

Order Your Hard Copy or eBook Today! See Options Below
Our online store:
Click Here and Get Your Hard Copy Today!
Barnes & Noble Nook:
Click here to purchase Nook eBook now!
Amazon Kindle:
Click here to purchase Kindle eBook now!
Apple iBook:
Available through iTunes